When the nerve of your tooth becomes infected, a successful root canal treatment lets you keep the tooth rather than having to pull it out. Keeping your tooth helps to prevent your other teeth from drifting out of line and causing jaw problems. Saving a natural tooth avoids having to replace it with an artificial tooth.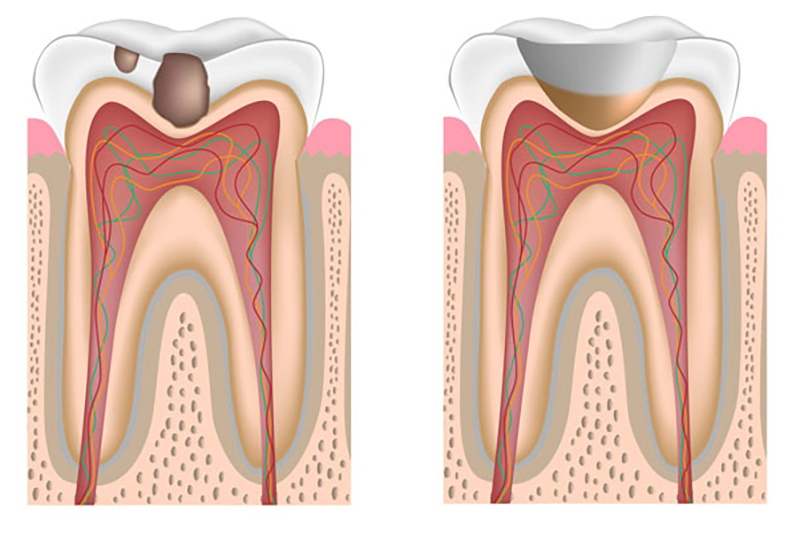 WHAT IS ROOT CANAL TREATMENT?
Root canal treatment is a dental procedure to treat infection at the centre of a tooth (the root canal system). Root canal treatment is also called endodontic treatment.
The infection is caused by bacteria that live in the mouth and invade the tooth when:
tooth decay occurs
fillings leak, or;
teeth are damaged by trauma, such as a fall
When bacteria (germs) enter your tooth through deep cavities, cracks or flawed fillings, your tooth can become abscessed. An abscessed tooth is a tooth with an infection in the pulp. If pulp becomes infected, it needs to be removed. An abscessed tooth may cause pain and/or swelling. Your dentist may notice the infection from a dental x-ray or from other changes with the tooth. If left untreated, an abscessed tooth can cause serious oral health problems
A tooth is made up of two parts:
The crown is the part of the tooth that is visible in the mouth.
The root extends into the bone of the jaw, anchoring the tooth in position.
These are composed of the following structures:
Enamel is the hard outer coating of a tooth.
Dentine is a softer material that supports the enamel and forms most of the tooth.
Cementum is a hard material that coats the root surface.
Dental pulp is the soft tissue at the centre of the tooth.
The root canal system contains the dental pulp and extends from the crown of the tooth to the end of the root. A single tooth can have more than one root canal.
SYMPTOMS OF A PULP INFECTION
The symptoms of a pulp infection include:
pain when eating or drinking hot or cold food and drink
pain when biting or chewing
the tooth may become loose
As the infection progresses, these symptoms often disappear as the pulp dies. Your tooth then appears to have healed, but in fact the infection is spreading through the root canal system. Eventually further symptoms occur, such as:
pain when biting or chewing
swelling of the gum near the affected tooth
pus oozing from the affected tooth
facial swelling
the tooth becoming darker in color
It is important that you see your dentist if you develop toothache.
It is important to look after your teeth when recovering from root canal treatment. You should also avoid biting on hard foods until all  treatment is complete. Most people can help prevent the need for further root canal treatment by:
maintaining good oral hygiene
being careful to avoid too much sugary food in your diet
quitting smoking, if you smoke
TOOTH RESTORATION AFTER ROOT CANAL TREATMENT
After a root canal treatment, your tooth has to be restored(fixed) to look, feel and work as much like a natural tooth as possible. If an endodontist performed your root canal treatment, he or she will fill the opening of the tooth with a temporary filling and send you back to your dentist or prosthodontist for tooth restoration.
A prosthodontist is a dental specialist who restores and replaces teeth using crowns, bridges, dentures and implants. Your dentist or specialist may use a permanent filling or a crown to restore your tooth. The choice of restoration will depend on the strength of the part of the tooth that's left. A back tooth will likely need a crown because chewing puts a great deal of force on back teeth. If there is not enough of the tooth left, posts may be used to help support the crown.
ROOT CANAL TREATMENT PROCEDURES
ROOT CANAL TREATMENT - FAQ
Would it be better just to have my tooth extracted?
Saving your natural teeth, whenever possible, is the very best option. An endodontically treated tooth, along with appropriate restoration, has many advantages for the patient. It is the best functional unit for chewing and speech. Endodontics is also a cost-effective way to treat teeth with damaged pulp and is usually less expensive than extraction and replacement with a bridge or an implant.
Why do I need endodontic treatment?
Sometimes the pulp inside your tooth (AKA the "nerve") becomes inflamed or infected. This can be caused by deep decay, repeated dental procedures on the tooth, a crack or chip in the tooth, or a blow or traumatic injury to the tooth. The inflamed or infected pulp tissue needs to be removed in these circumstances.
Does root canal treatment hurt?
Root canal treatment doesn't cause pain, it relieves it. Most patients see their dentist immediately when they have a severe toothache. Such toothache can be caused by damaged tissues in the tooth. Root canal treatment removes this damaged tissue from the tooth, thereby relieving the pain you feel. In other cases, root canal therapy is indicated when the patient has no symptoms in order to prevent problems in the future and save the tooth.
I didn't have any problems until after my dentist placed a crown/filling. Why do I need a root canal now?
It is not necessary or desirable to perform root canal treatment on each and every tooth that needs a crown or a filling. However, in a small percentage of cases, root canal treatment is needed after a crown or a deep filling is placed in order to save the tooth, when the pulp tissue becomes inflamed.
Is root canal treatment usually successful?
Endodontic treatment has a very high success rate. Many root canal treated teeth last a lifetime. Millions of healthy endodontically treated teeth serve patients all over the world, years and years after treatment.
Those healthy teeth are helping patients chew efficiently, improve patients' speech, maintain the natural appearance of their smiles and enhance their enjoyment of life. Through endodontic treatment, endodontists enable patients to keep their natural teeth for a lifetime.