TOP 10 VIETNAMESE FOODS YOU CANNOT AFFORD TO MISS
The cuisine is what worldly wanderers desperately want to explore whenever they step into a new land. There are many foods unique to each country that should be enjoyed at least once in a lifetime and below are top 10 Vietnamese dishes that fall under that category.
1. PHO - COUNTRY'S DE-FACTO NATIONAL DISH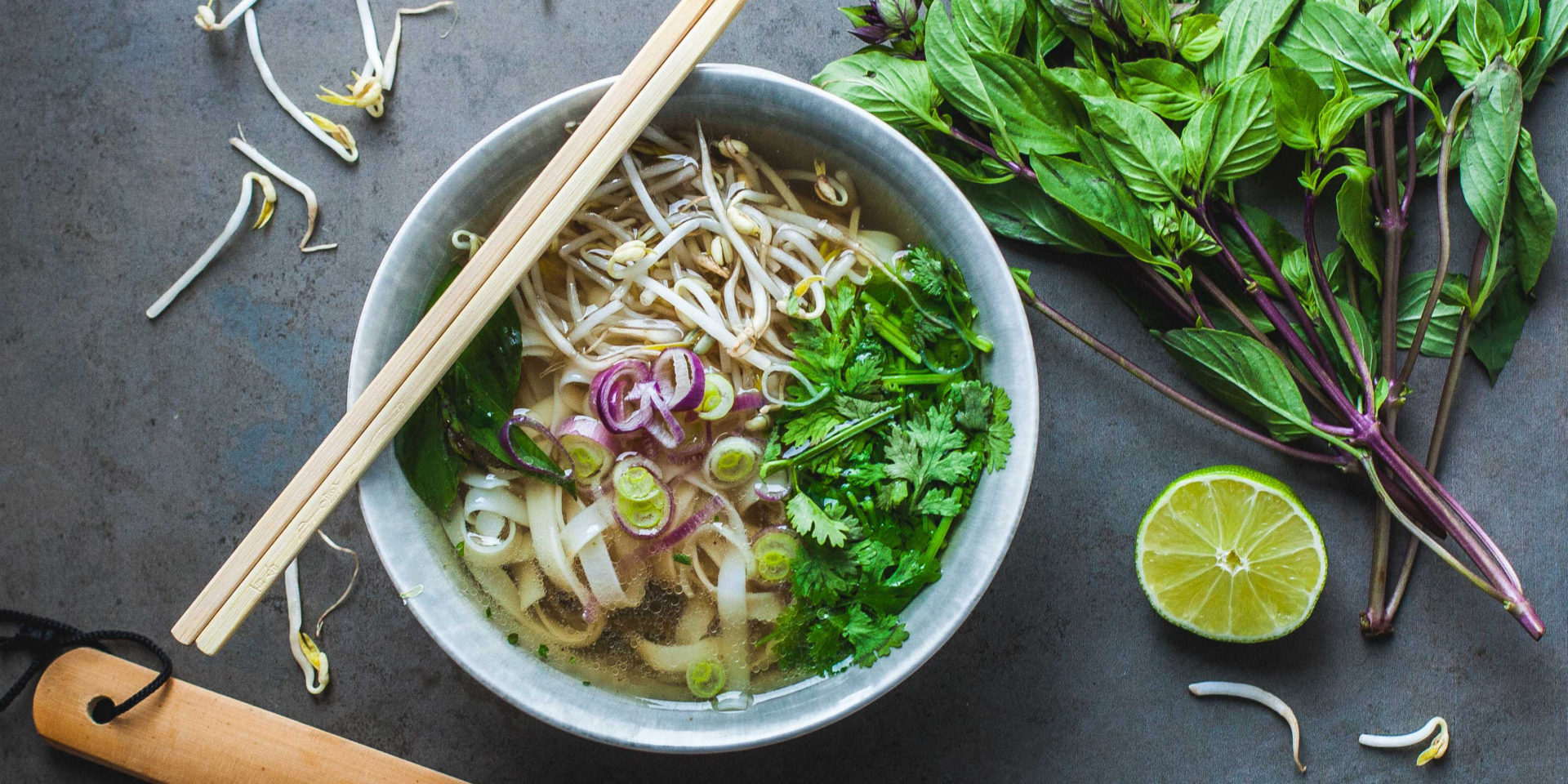 The most popular among Vietnamese dishes is the one and only – "pho" which is also the country's de-facto national dish. It is usually also the first dish foreigners talk about when Vietnamese food is mentioned. In 2011, CNN also ranked this noodle-dish as one of the most delicious foods in the world.
However, Pho is just one of many, many, MANY noodle soups in Vietnam. From a strictly linguistic standpoint, phở refers to the rice noodles, not the soup itself. But it's become synonymous with the staple soup served with various meat parts (usually beef or chicken), bean sprouts, lime wedges, the essential greens (basil, mint, cilantro, and onions), and whatever chili sauce and fish sauce you need to doctor up the broth to your liking.
It's cheap, tasty, and especially popular for breakfast in Hanoi. The northern-style pho in Hanoi is typically defined by a clear broth whereas the southern-style broth tends to be slightly sweeter, murkier from added sauces, and popping with more herbs and other garnishes.
2. BANH MI (VIETNAMESE BAGUETTE)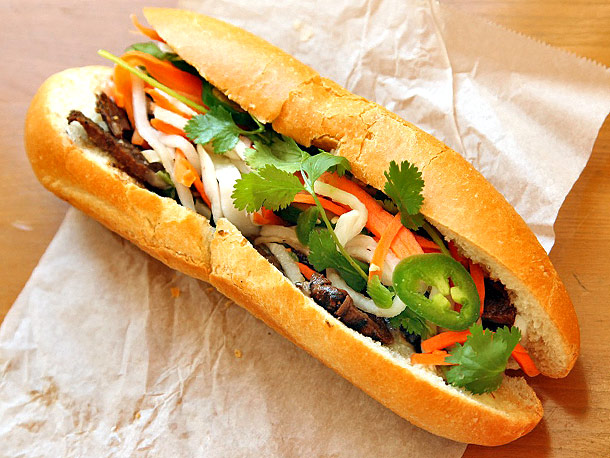 Once described as "One of the world's finest sandwiches" by BBC, banh mi is addictive thanks to the uniqueness lying not only within the crispy French-influenced baguettes but also in the flavor packed, savory Viet fillings. These signature baguettes are usually stuffed with a meat of your choice (grilled pork, bbq beef, or shredded chicken), vegetables, a variety of sauces, and my most favorite part, an extra sunny side up egg. Available at almost every street corner, banh mi is a perfect choice if you are in a rush or just want to temporarily appease your hunger.
3. BUN RIEU (CRAB NODDLE SOUP)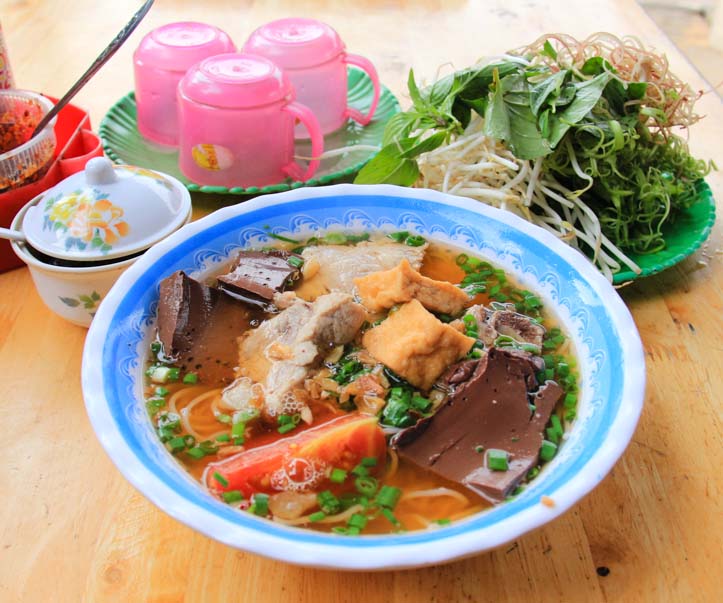 Vietnam has a number of noodle dishes and some of them represent a part of the country. If Hanoi is represented by bun cha and Hue by bun bo, then bun rieu is seen as the most suitable representative for the South. Consisting of crab and rice noodles, bun rieu is a well-known traditional dish and in 2012, CNN named bun rieu of Vietnam as one of the most attractive dishes in Asia.
4. BUN CHA (RICE VERMICELLI WITH GRILLED PORK)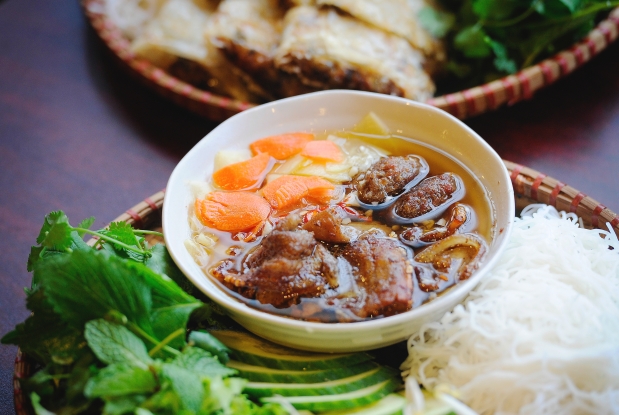 Bun cha is definitely a must-try dish when you want to have a better understanding of the national cuisine. Originated in Hanoi, the capital of Vietnam, bun cha is served with grilled fatty pork (cha) over a plate of white rice noodle (bun) and herbs with a side dish of slightly sweet sauce.
The strong flavor of the pork, combined with the sweet & sour sauce and fresh vegetables create a taste that is more than awesome.
President Obama had a great time enjoying Bun Cha during his visit to Vietnam back in May 2016.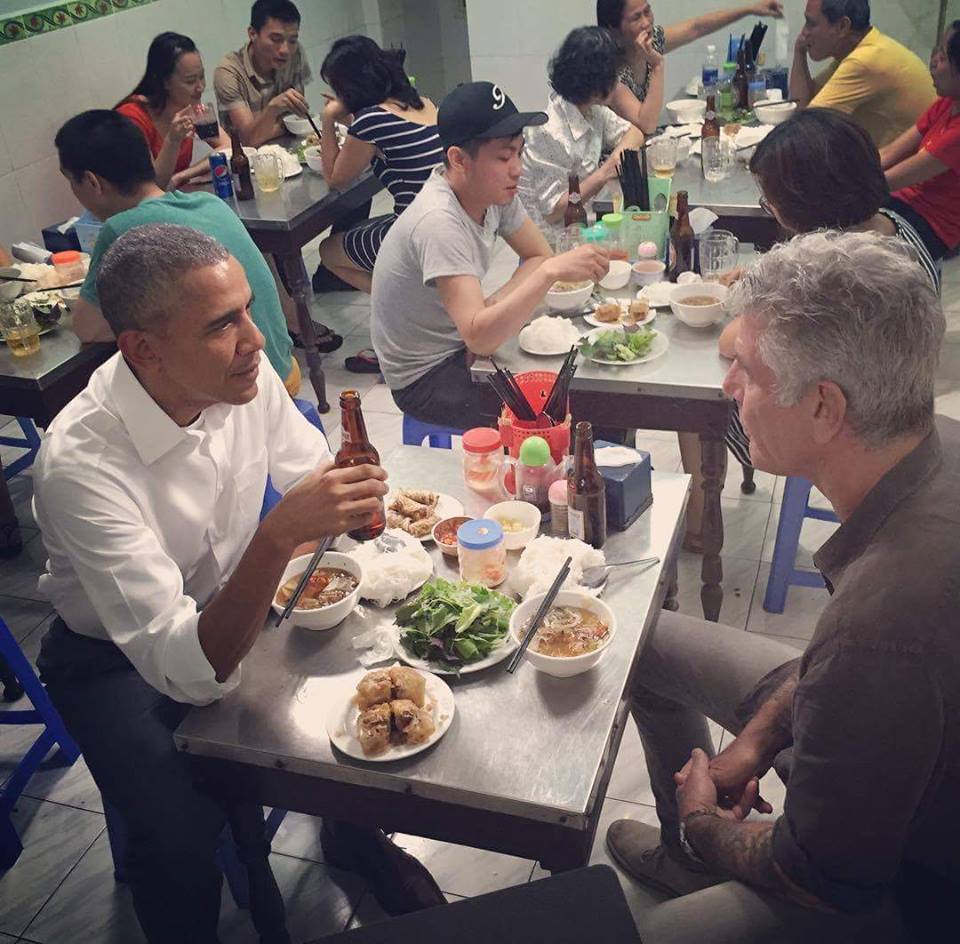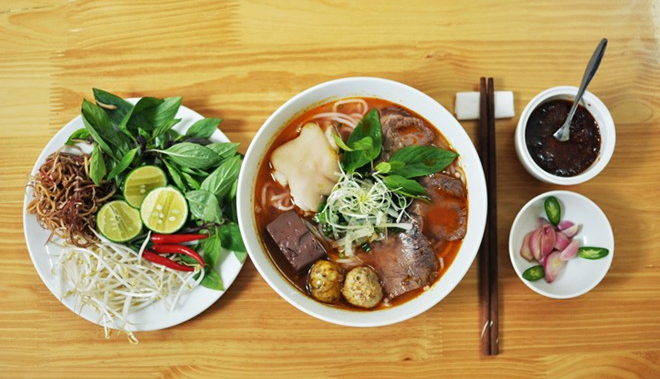 In this list, we recommend three kinds of bun and the last one on the list is bun bo Hue. This type of noodles originated in Hue, the former capital of Vietnam and like other dishes that originated from the region, bun bo Hue is really sophisticated in flavor. The broth is prepared by well-simmered beef bones and beef shank with lemongrass and then seasoned with fermented shrimp sauce and sugar. Later, very spicy chili oil is added during the cooking process.
6. BANH XEO (SIZZLING PANCAKE)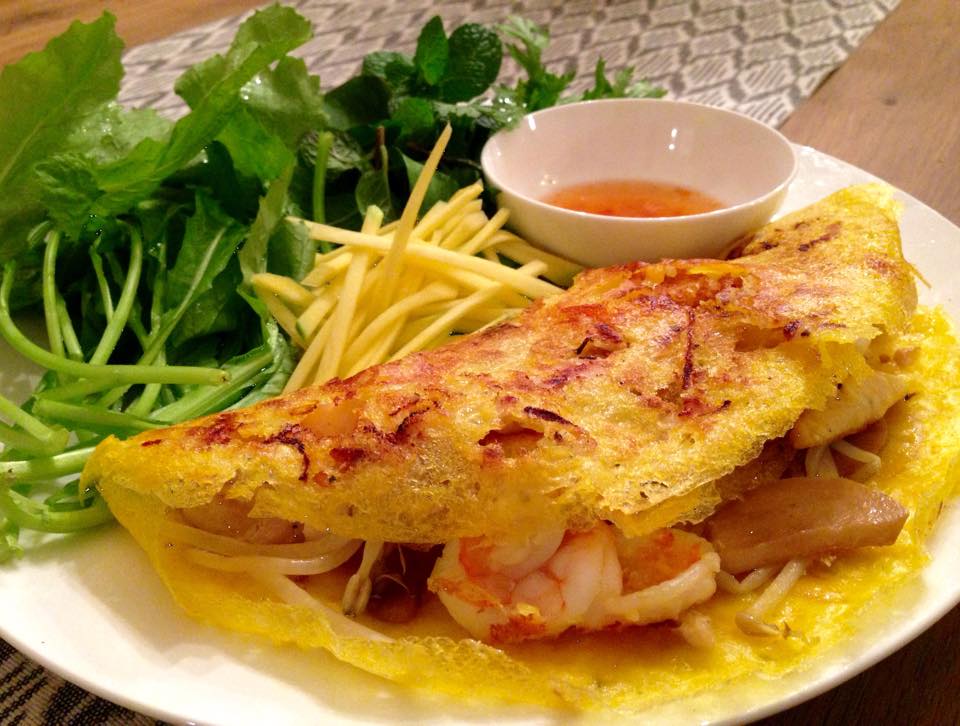 Vietnamese cuisine is more than noodle-based dishes, and banh xeo is one of the hidden gems.
Banh xeo literally means "sizzling cake" in Vietnamese. "Banh" means cake while "xeo" is an onomatopoeic word alluding to the sizzling sound the batter makes when it hits a hot frying pan. The cakes are more like crispy crepes made with rice flour, coconut milk, and stuffed with shrimp, pork, and bean sprouts. The pancake then is wrapped up with lettuce and herbs and dunked in a spicy sauce before being eaten. For your information, it is the turmeric in the ingredients that gives such an eye-catching yellow color to these pancakes.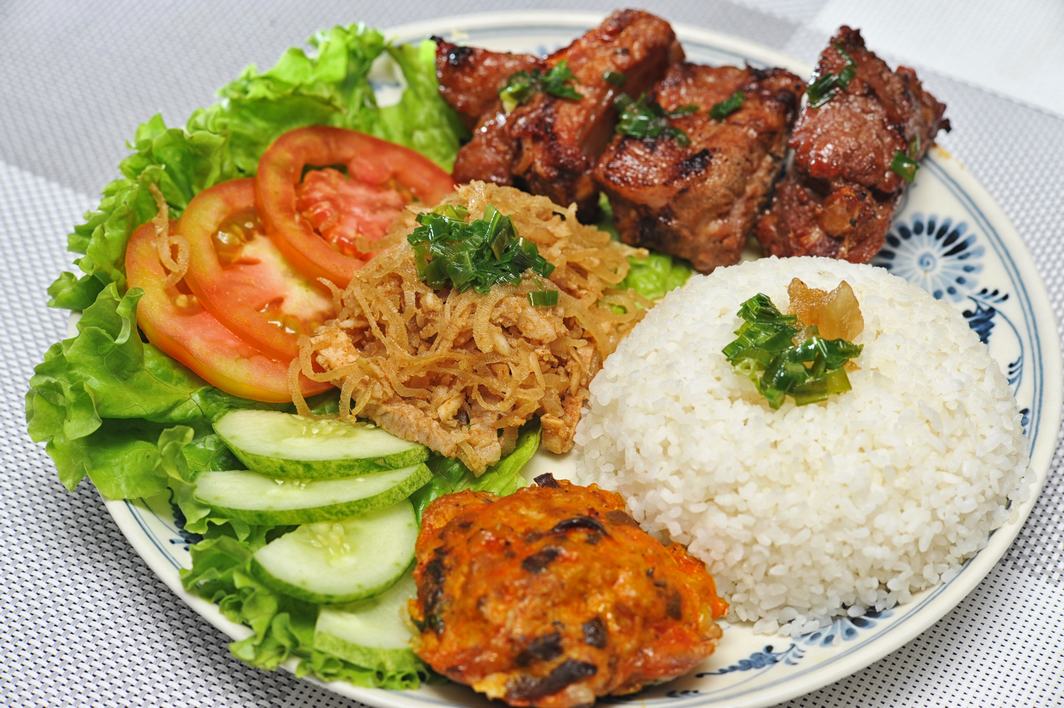 The smell of meat grilling over an open fire is definitely hard to resist. Lucky for you, there's always at least one com tam eatery on practically every street of Ho Chi Minh City. Com tam is a pure gastronomic pleasure: barbecued pork (either ribs or shredded) on broken rice, topped with a fried egg and other accouterments. Typically, restaurants also serve this popular dish with a small bowl of fish sauce, as well as a small bowl of soup broth with garlic chives (to cleanse the throat). For locals, it is a delicious traditional dish but for foreigners, com tam is a quintessential Saigon experience.
The attraction of the dish lies not only in its great taste but also in the superior healthiness and simplicity in cooking it using fractured rice grain. Sellers can even rub the rice grains until it gets broken. This makes com tam quite different from other Vietnamese meals prepared with normal rice.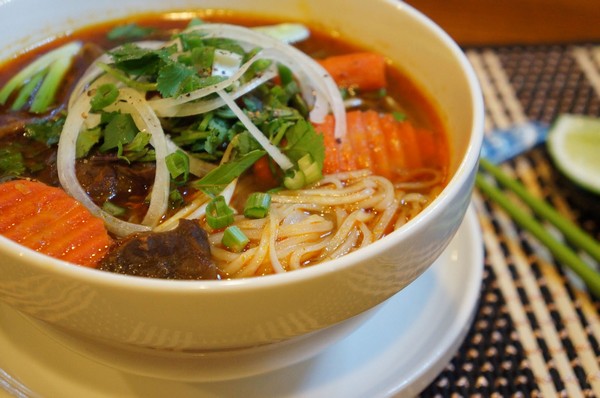 Bo kho – is a famous Vietnamese-style beef stew, and comes in many versions as the recipe varies from region to region. But commonly, people eat bo kho with crisp baguettes, rice or flat rice noodles, and usually a touch of lime juice, making the dish all the more delightful. The stock is absolutely delicious and is infused with various spices and fresh herbs.
9. XOI (STEAMED STICKY RICE)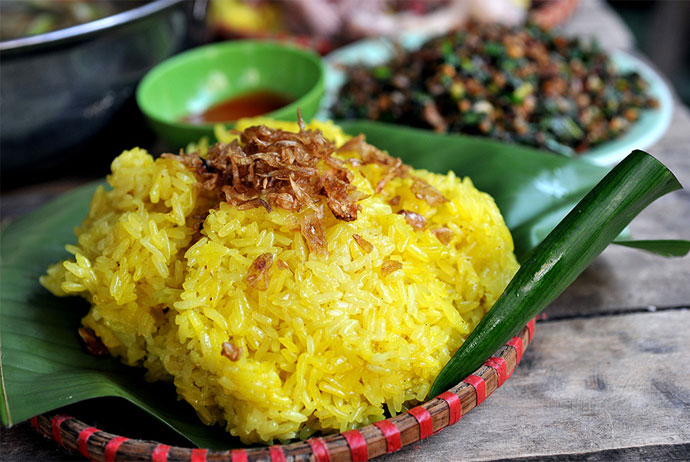 As simple and convenient as banh mi, xoi (Vietnamese steamed sticky rice) is our next on-the-go eating suggestion. Walking along the streets in any Vietnamese city, you will easily encounter female vendors carrying bamboo poles with hanging baskets at both ends, skillfully balanced on their shoulders. Many of these women make their living with daily sticky rice baskets.
Regarding its taste, there are basically two types of xoi: xoi ngot (sweet version) and xoi man (savory version). Skillfully wrapped in a banana leaf, topped with grated coconut, mashed mung beans, and delicious sesame seeds, xoi ngot is definitely a good choice as a non-meaty option. Yet, if you like a more savory dish, then xoi ga (chicken one) or xoi thap cam (chow mein topped one) should be bought.
10. GOI CUON (SPRING ROLLS)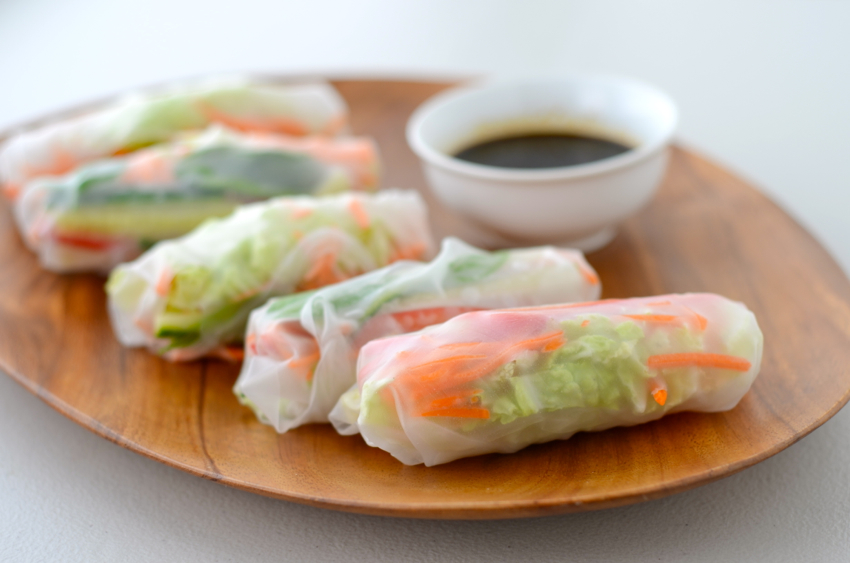 Not to be confused with your traditional egg rolls, these are different in that they're not fried but still equally delectable! These come in varieties of ingredients but my favorite spring rolls are the grilled pork (nem nướng̣ cuốn – image shown).
Dip it in peanut sauce, and your tastebuds will go on the ride of your life!
Travelers come to Vietnam with an intention of seeing its surreal landscapes of which the country has no shortage. However, your itinerary of Vietnam is undoubtedly incomplete if you do not make it a priority to eat the local dishes mentioned above.